Home>

Kingsgate Cottage Birdhouse
Kingsgate Cottage Birdhouse
Item: birdhouse-2041S
This 2 story white cottage birdhouse has intricate details and two roof lines. The roof is topped with pine shingles and there are numerous details on the porch, window and door trims.
It has a removable back wall for easy cleaning. Included is a mounting bracket for easy installation.
Home Bazaar.
Dimensions: 10.5" H x 11.5" W x 7.5" D
MSRP $124
$119.00
(Free Shipping)

Also Available
Related Item(s)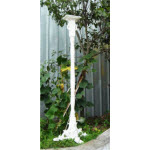 59" Tall Classic Birdhouse Pedestal with Ground Auger
Price: $129.00
Sold Out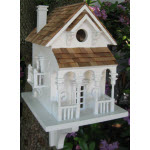 Honeymoon Cottage Birdhouse With Bracket
Price: $119.00
Almost Sold Out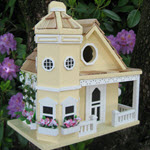 Price: $69.00
In Stock
Customer Reviews
Customer Ratings & Reviews
Sorry, No Product Reviews yet.
Be the first to rate this item! Write Review
---
Overall Shopping Experience:
Customers gave us a 4.897 out of 5 Rating. Thank You!
---
5 out of 5
Will do businesses with company again. Fast, convenient service and hassle free. Product arrive in perfect condition. No worries here.
- Mary Ann (Havre de Grace, MD)
---
5 out of 5

- Tanya8624 (Florida)
---
5 out of 5
Ordering was simple; shipping was free and ahead of projected timeframe. Thank you for making this process so easy and who can beat "free."
- DG (Lewisberry PA)
---
5 out of 5
See top
- Vietnam Warrior (W.Yarmouth Mass)
---
5 out of 5

- New Bride (CA)
---
5 out of 5
I was a little reluctant to order from aGarden Place due to the lack of reviews however I called their customer support number and spoke with Diana (she answered the phone, no voicemail or callbacks) who was professional, provided information about the company and the product. I then placed my order online and it was delivered to my front door within a few days, everything happened as Diana told me it would. I would definitely order from aGarden Place again.
- briane (Sutton, NH)
---
5 out of 5
I couldn't be more pleased with my order from aGardenPlace.com. The items arrived quickly, and I received the best price compared to all other vendors. I will be back!
- AggieMOM (San Antonio, TX)
---
5 out of 5
I trust this website, and am 100% pleased with their service & professionalism.
- Dana (Adamsville, Tennessee)
---
5 out of 5
Very happy with the product and your delivery!
- (Leesburg, IN)
---
5 out of 5
Good job !
- Jim (Indiana)
---
5 out of 5
Very happy to find this web site! Wonderful and unique things for sale with amazing prices!
- Synndee (Aurora, Colorado )
---
5 out of 5
Shipped right away!!
- Stacie (Spokane WA )
---
5 out of 5
Love it
- Tim (Laconia, NH)
---
5 out of 5
Prices a little high. Selection are god.
- ()
---
5 out of 5
Excellent experience. Will be back.
- Ken (Madison WI)
---
5 out of 5
Your shipping speed is excellent ! ! Thank you.
- Grovey (Sun City Center FL)
---
5 out of 5
Great experience on your website and with your shipping speed.
- (Sun City Center FL)
---
5 out of 5
Outstanding Customer Service, great array of products. Could not be happier with the service I received. They go beyond what is the norm for excellent customer service!
- Deb in Ohio (Springfield, OH)
---
5 out of 5
I was having trouble placing my order, my fault, they stepped in and corrected my errors and placed my order. Exceptional customer service. Went above and beyond what I expected.
- Deb in Ohio (Springfield, OH)
---
5 out of 5
When I encountered problems from my own ignorance, they fixed the problem quickly. Very nice website and I will be back again.
- Deb in Ohio (Springfield, OH)
---
*
Description
Functional and super cute, this cottage style birdhouse features vintage charm and quality craftmanship with non toxic finishes and easy to clean openings.
Avian Housing reaches new heights with Home Bazaar's distinctive line of architectural birdhouses, bird feeders, and related garden accessories. Take a bird's eye view of Home Bazaar Victorian designs enhanced by authentic scrollwork and turn-of-the-century, cottage inspired embellishments.
Designed to attract all types of wild birds, Home Bazaar birding products are both decorative and fully functional. All pieces are designed for outdoor use and satisfy requirements of the most stringent birding enthusiasts. Features:
Exterior grade ply-board for the walls, floor and underlying roof board
Kiln-dried hardwoods, pine and poly-resin for the details
Western Red Cedar or Pine shingles for the roof
Removable backwalls for easy cleaning
Ventilation and drainage
Outdoor, water-based, non-toxic paint - Unpainted Interiors
1.25" hole openings, excluding Purple Martin (2") and Bluebird houses (1.5" ) designed to accommodate common cavity dwellers such as Wrens, Finches, Chickadees, Nuthatches and Titmice.
Specifications
10.5" H x 11.5" W x 7.5" D
Ship Wt: 7.00 pounds
Exterior Grade Wood - Polyresin Details

Can be mounted to optional pedestals: HB-2010PN,HB-2097PN