Home>

Watercolor Glass Hummingbird Feeder (Asst Colors)
Watercolor Glass Hummingbird Feeder (Asst Colors)
Item: CK-1538
Uniquely colored hummingbird feeders are sure to attract those tiniest of feathered friends.
Set contains 1 each in jewel tones of sapphire, amethyst, and peridot. Hang together to attract multiple birds, or divide and give as gifts
Set of 3
Glass
5.75" x 5.75"
Reg $59
$49.50
(Free Shipping)

Also Available
Related Item(s)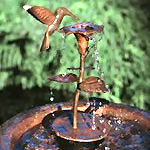 Copper Hummingbird Birdbath Dripper
Price: $56.00
Ratings Snapshot
Would recommend this product.
Sold Out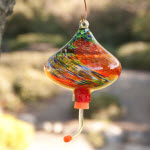 Multicolor Glass Hummingbird Feeder
Price: $15.00
In Stock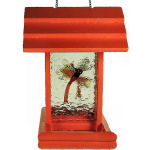 Dragonfly Hot House Birdfeeder
Price: $29.00
Almost Sold Out
Customer Reviews
Customer Ratings & Reviews
Sorry, No Product Reviews yet.
Be the first to rate this item! Write Review
---
Overall Shopping Experience:
Customers gave us a 4.897 out of 5 Rating. Thank You!
---
5 out of 5
Will do businesses with company again. Fast, convenient service and hassle free. Product arrive in perfect condition. No worries here.
- Mary Ann (Havre de Grace, MD)
---
5 out of 5

- Tanya8624 (Florida)
---
5 out of 5
Ordering was simple; shipping was free and ahead of projected timeframe. Thank you for making this process so easy and who can beat "free."
- DG (Lewisberry PA)
---
5 out of 5
See top
- Vietnam Warrior (W.Yarmouth Mass)
---
5 out of 5

- New Bride (CA)
---
5 out of 5
I was a little reluctant to order from aGarden Place due to the lack of reviews however I called their customer support number and spoke with Diana (she answered the phone, no voicemail or callbacks) who was professional, provided information about the company and the product. I then placed my order online and it was delivered to my front door within a few days, everything happened as Diana told me it would. I would definitely order from aGarden Place again.
- briane (Sutton, NH)
---
5 out of 5
I couldn't be more pleased with my order from aGardenPlace.com. The items arrived quickly, and I received the best price compared to all other vendors. I will be back!
- AggieMOM (San Antonio, TX)
---
5 out of 5
I trust this website, and am 100% pleased with their service & professionalism.
- Dana (Adamsville, Tennessee)
---
5 out of 5
Very happy with the product and your delivery!
- (Leesburg, IN)
---
5 out of 5
Good job !
- Jim (Indiana)
---
5 out of 5
Very happy to find this web site! Wonderful and unique things for sale with amazing prices!
- Synndee (Aurora, Colorado )
---
5 out of 5
Shipped right away!!
- Stacie (Spokane WA )
---
5 out of 5
Love it
- Tim (Laconia, NH)
---
5 out of 5
Prices a little high. Selection are god.
- ()
---
5 out of 5
Excellent experience. Will be back.
- Ken (Madison WI)
---
5 out of 5
Your shipping speed is excellent ! ! Thank you.
- Grovey (Sun City Center FL)
---
5 out of 5
Great experience on your website and with your shipping speed.
- (Sun City Center FL)
---
5 out of 5
Outstanding Customer Service, great array of products. Could not be happier with the service I received. They go beyond what is the norm for excellent customer service!
- Deb in Ohio (Springfield, OH)
---
5 out of 5
I was having trouble placing my order, my fault, they stepped in and corrected my errors and placed my order. Exceptional customer service. Went above and beyond what I expected.
- Deb in Ohio (Springfield, OH)
---
5 out of 5
When I encountered problems from my own ignorance, they fixed the problem quickly. Very nice website and I will be back again.
- Deb in Ohio (Springfield, OH)
---
Description
Large hummingbird feeders in jeweled tone colors of sapphire, amethyst
Place your feeders in the shady spot in the garden out of direct sun. Clean regularly and replace the solution weekly. Clean your feeders with hot water or a 10% bleach solution. Rinse thoroughly and allow to dry completely before refilling.
Easy Hummingbird Nectar Recipe


Hummingbirds feed on flower nectar and insects. You can buy hummingbird nectar, but it's super easy to make your own. The correct solution that resembles plant nectar is:

1 part sugar
4 parts water

Combine water and sugar, bring to a slow boil for 2 minutes. Cool before pouring into the feeder. Any excess may be stored in the refrigerator for several weeks.

DO NOT USE:

Red food coloring or dye.
Artificial sweeteners which have no nutritional value.
Honey which ferments quickly and causes a deadly fungus.
Specifications
5.75 x 5.75 x 5.75"
Ship Wt: 2.00 pounds
Glass
Share this Product