Home>

Moon Thermometer - French Bronze
Moon Thermometer - French Bronze
Item: WH-01683
Aluminum outdoor thermometer features large, easy to read temperature dial around a celestial background and months of the year.
All Weather Aluminum
French Bronze finish
Battery Operated
12" Diameter
Made In USA
$59.00
(Free Shipping)

Also Available
Related Item(s)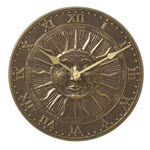 Price: $59.00
Sold Out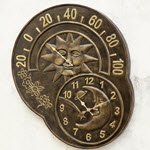 Sun and Moon Clock and Thermometer
Price: $137.00
Sold Out
Customer Reviews
Customer Ratings & Reviews
Sorry, No Product Reviews yet.
Be the first to rate this item! Write Review
---
Overall Shopping Experience:
Customers gave us a 4.897 out of 5 Rating. Thank You!
---
5 out of 5
Will do businesses with company again. Fast, convenient service and hassle free. Product arrive in perfect condition. No worries here.
- Mary Ann (Havre de Grace, MD)
---
5 out of 5

- Tanya8624 (Florida)
---
5 out of 5
Ordering was simple; shipping was free and ahead of projected timeframe. Thank you for making this process so easy and who can beat "free."
- DG (Lewisberry PA)
---
5 out of 5
See top
- Vietnam Warrior (W.Yarmouth Mass)
---
5 out of 5

- New Bride (CA)
---
5 out of 5
I was a little reluctant to order from aGarden Place due to the lack of reviews however I called their customer support number and spoke with Diana (she answered the phone, no voicemail or callbacks) who was professional, provided information about the company and the product. I then placed my order online and it was delivered to my front door within a few days, everything happened as Diana told me it would. I would definitely order from aGarden Place again.
- briane (Sutton, NH)
---
5 out of 5
I couldn't be more pleased with my order from aGardenPlace.com. The items arrived quickly, and I received the best price compared to all other vendors. I will be back!
- AggieMOM (San Antonio, TX)
---
5 out of 5
I trust this website, and am 100% pleased with their service & professionalism.
- Dana (Adamsville, Tennessee)
---
5 out of 5
Very happy with the product and your delivery!
- (Leesburg, IN)
---
5 out of 5
Good job !
- Jim (Indiana)
---
5 out of 5
Very happy to find this web site! Wonderful and unique things for sale with amazing prices!
- Synndee (Aurora, Colorado )
---
5 out of 5
Shipped right away!!
- Stacie (Spokane WA )
---
5 out of 5
Love it
- Tim (Laconia, NH)
---
5 out of 5
Prices a little high. Selection are god.
- ()
---
5 out of 5
Excellent experience. Will be back.
- Ken (Madison WI)
---
5 out of 5
Your shipping speed is excellent ! ! Thank you.
- Grovey (Sun City Center FL)
---
5 out of 5
Great experience on your website and with your shipping speed.
- (Sun City Center FL)
---
5 out of 5
Outstanding Customer Service, great array of products. Could not be happier with the service I received. They go beyond what is the norm for excellent customer service!
- Deb in Ohio (Springfield, OH)
---
5 out of 5
I was having trouble placing my order, my fault, they stepped in and corrected my errors and placed my order. Exceptional customer service. Went above and beyond what I expected.
- Deb in Ohio (Springfield, OH)
---
5 out of 5
When I encountered problems from my own ignorance, they fixed the problem quickly. Very nice website and I will be back again.
- Deb in Ohio (Springfield, OH)
---
Description
Keep Time with Style - Whitehall Clocks & Thermometers can be used indoors or outdoors. The rust-free durability of aluminum, upscale finishes, and unique designs, combine to give create a beautiful decorative and functional home accent
Specifications
13" x 13" x 2.5"
Ship Wt: 4.00 pounds
ALUMINUM
Share this Product